Author/s: Irene Gartzia (AZTI), Irene Peral (AZTI), Begoña Alfaro (AZTI), Sonia Riesco (AZTI), Elena Santa Cruz (AZTI), Athanasios Krystallis (HCMR), Karen Brunso (AU), Violeta Stancu (AU), Anna Claret (IRTA), Luis Guerrero (IRTA)
Mediterranean aquaculture industry faces new challenges in an increasingly globalized market with competitiveness as the key factor and in which Innovations in the supply chain are as important as innovations in production. With and Increasing fish demand Aquaculture will be the clearly most important seafood production technology in next years.
The changes that the European consumer is experiencing in terms of new lifestyles, trends and habits in food purchasing and consumption, and others as increasing food environmental awareness, are influencing the development of innovations in the food market regarding new products concepts but also affecting production and market strategies and commercialization channels.
In Deliverable 5.1., aquaculture products and market requirements of stakeholders (farmers, processors, retailers, caterers, consumer organizations and commercial experts in aquaculture), are identified by collecting their opinions on: current aquaculture market and trends, consumers drivers for aquaculture seafood choices and evaluation of trends on seafood market for the future, and as well by participating in co-creation workshops where seafood trends have been revisited, and seafood product ideas generated.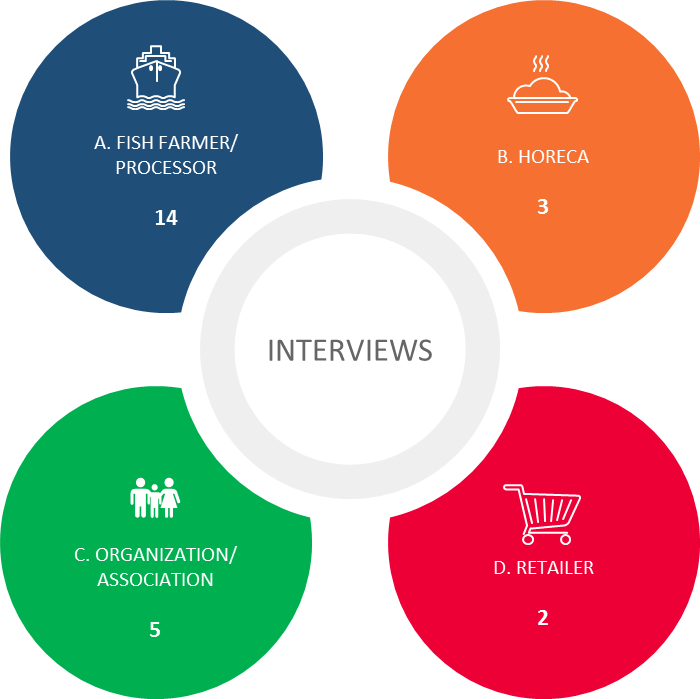 There is an agreement about the growth (slowly) in the aquaculture end market in Europe related to affordable prices and change in consumer attitudes. In this market, sustainability and R&D developments associated to products diversification, packaging, shelf-life, convenience, and processing/technologies are the key issues.
The main consumer drivers to choose aquaculture products are those related to healthcare and convenience (easy cooking, no bones and high value-added products) and there is an incoming demand for food quality and safety, traceability, animal welfare and sustainability. The stakeholder group also pointed out that for European consumers, quality and safety are essential characteristics when it comes to aquaculture products. In addition, they mentioned other incoming trends as the consumption of oriental type of products like sushi style, the e-market drive to target the consumer directly and the development of "ad hoc" products and specific solutions for different consumer segments.
Finally, the analytical and participatory co-creation tools allowed to identify the main aquaculture fish market challenges in order to detect new market opportunities for new consumers lifestyle; aquaculture sector/market image, new consumers and generations, aquaculture products characteristics and product offer.
The most important trends considered to probably have more impact in the aquaculture fish sector identified were Betterment (health and natural issues), Local /Origin (sustainability, identity, quality and freshness) and Helpful (convenience issues as easy, simple and timesaving). The identification of the market challenges and incoming trends (https://issuu.com/aztitecnalia/docs/eatrends2016_by_azti), led the participants to point interesting ideas for new products in order to adapt the product for different consumption moments, introduce fish into younger generations and answer specific target´s needs.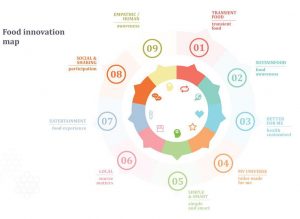 As a conclusion the results achieved, will help along with achievements of the following tasks in WP5, to identify the best market solution for aquaculture fish species, transforming them into new value-added products, tailor-made to satisfy consumer requirements and adapted to the diverse food and fish market channels needs and thus promote a more long-term competitive supply-demand equilibrium of Mediterranean aquaculture.