i) What is your contribution to the MedAID project?
In MedAID, We are working on Work-package 4 "Health Management and diseases and health".  This workpakage has the overall objective of improving the health and welfare of fish in the Mediterranean basin.
This objective is addressed in several tasks in the workpackage, where we participate as leader of Task 4.3 which has the objective to develop and test a new innovative vaccine to protect sea bass against infection with betanodavirus. The vaccine is made by Virus Like Particles (VLP), which is particles that looks exactly like the virus particle on the outside, but without the virus genome inside, and therefore they are unable to infect the fish. When the fish is exposed to these VLPs, the immune system will make a response against the structures on the VLP surface to protect the fish against this foreign particle. This is the normal reaction of the immune system. If the fish later encounters the real virus – in this case the betanodavirus – the immune system is already trained to recognize and combat the virus particles, because they look exactly like the VLP's, that the immune system has "practiced" on. This makes the fish immune system more competent in fighting the infection and will usually make sure, that the fish survives the infection without any signs of disease.
ii) Why is this research needed?
Infection with betanodavirus currently represents one of the major bottlenecks for the development of Mediterranean aquaculture. Betanodavirus causes the disease Viral Encephalopathy and Retinopathy (VER) which manifest in the nervous system of several marine cultured fish species, including sea bass. It causes clinical signs such as abnormal swimming pattern and high mortalities. The virus survives well in the environment and spreads easily making it difficult to prevent infection with biosecurity measures alone. Usually fish fry is affected when they are very small, and outbreaks at this time can cause very high mortalities and therefore high loses to the fish farmer.
iii) What are the main expected outcomes/or possible impacts on the sector?
If we can provide a protective vaccine against nodavirus, we can prevent the high mortalities usually associated with outbreaks of the virus, which will benefit both animal welfare and the production on the farm. In an outbreak, it is not unusual that the farm loses up to 30% of their fish and the infection has a number of consequences on the affected stocks in terms of Food Conversion Ratio, Growth rate and resistance to other pathogens and infection.
iv) What other projects/activities are you working on?
DTU Aqua Aquatic Animal Health Unit (DTU AquaAAH) encompasses all infectious aquatic animal diseases in aquaculture and wild life. DTU AquaAAH covers all disciplines relating to infectious diseases: pathology, bacteriology, virology, parasitology, immunology, vaccinology, serology, diagnostic best practices and development and communication of diagnostic tools as well as epidemiology and risk assessment. As well as fulfilling an educational and communication role, DTU AquaAAH is involved in research and innovation, diagnostics, monitoring, advisory services and risk assessment. DTU AquaAAH is responsible for the laboratory component of the Danish veterinary contingency plan on the management of outbreaks of serious infectious aquatic animal diseases in Denmark. DTU AquaAAH is appointed as National and the EU reference laboratory for fish diseases and the OIE reference laboratory for Viral Haemorrhagic Septicaemia (VHS).
Being the EU ref lab, DTU Aqua carries out basic and applied research aiming to control and prevent infectious animal diseases, including listed fish diseases, and having a primary role in diagnosing and characterizing putative emerging fish pathogens in Europe, providing advice for surveillance and control of fish diseases.
Our group has been deeply involved in TARGETFISH (project Grant Agreement No. 311993) under the 7th Framework Programme for Research and Technological Development where large efforts have been conducted to develop new vaccine prototypes and vaccination strategies for farmed fish and where the VLP has been prototyped
Currently DTU AquaAAH is involved in two other H2020 projects related to fish diseases:
• PARAFISHCONTROL with large involvement in WP4 where development and implementation of harmonized diagnostic techniques are needed to strenghten diagnostic capacities for parasitic infestations across Europe.
• AQUAEXCEL2020 where we are involved in phenotypic characterization of European sea bass families in their resistance to Nodavirus infection. We expect that the knowledge gained in this task will deeply contribute to the develpment of effective vaccination by refining the experimental infectious model.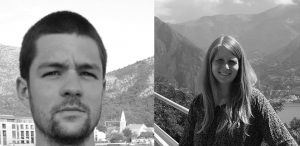 Niccoló VENDRAMIN, PhD student/Veterinarian
Sofie BARSØE, PhD student/Veterinarian
DTU-Aqua, Aquatic Animal Health Unit, Denmark.
WP 4 – Health Management and diseases and health