More product innovation and the development of new products for new markets is clearly needed for a more long-term competitive supply-demand equilibrium of Mediterranean aquaculture (European Seabass, Gilthead seabream and meagre). As in the rest of the food industry, the improvement of the competitiveness and sustainability of the Mediterranean marine aquaculture sector is governed by current consumer trends, which translates into the need to transform the species of aquaculture to make available to consumers the safe, quality and convenience products they demand.
In WP5 we aimed to explore and validate the technical and market feasibility of developing different product alternatives of specific Mediterranean aquaculture fish species for commercial exploitation, identifying the best market solution for each type of fish species, transforming them into new value-added products, and tailor-made to satisfy the needs of different consumer profiles (children, senior, gourmet/premium, ethnic etc.), and finally adapted to the needs of diverse food and fish market channels.
The aim of the work reported in this deliverable (Deliverable 5.3) is to  design and develop new products concepts (prototypes) at kitchen-lab and/or pilot-scale with specific characteristics according to those identified and defined in  previous tasks. For this activity the following steps of fish species raw material characterization, food products formulation design and food technology processing parameters optimization have been  implemented.
Through the "Screening of ideas" process, the various product ideas elicited in the co-creation activities, market segmentation and the focus groups' sessions were assessed and ranked through quantitative  screening and idea analysis workshops. As a result of this step-by-step screening process, a selection of the most promising product ideas was obtained.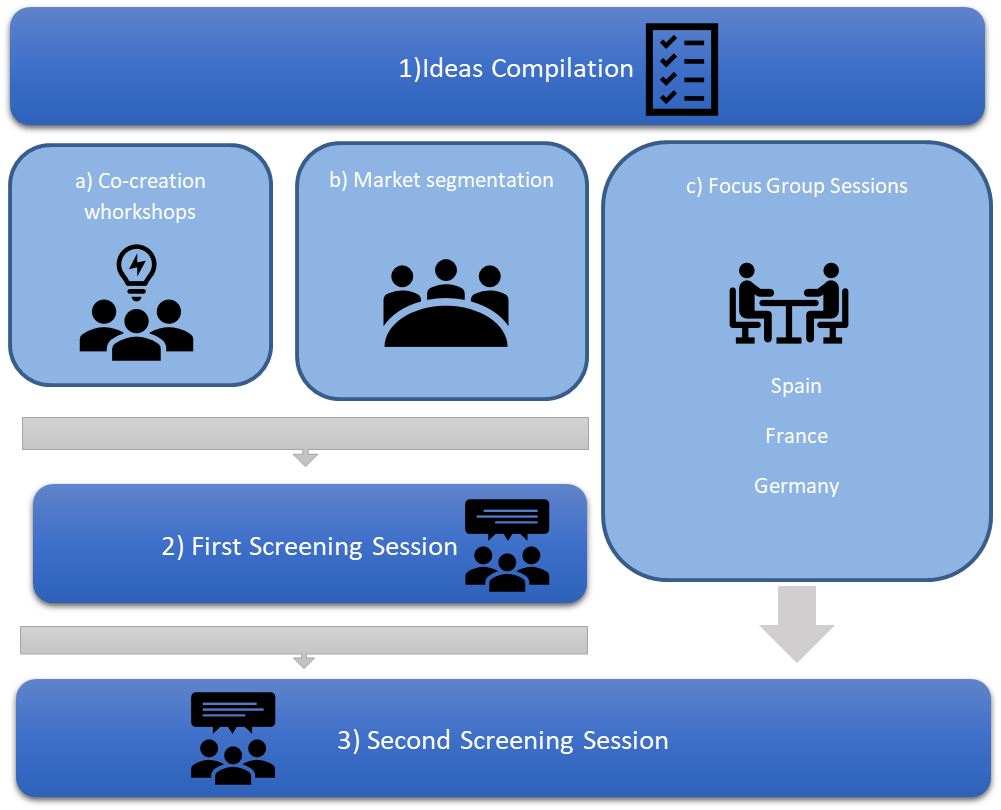 Also the study of the characteristics of different raw materials (seabream, seabass and meagre) with different sizes, processing level and geographical origin resulted in a definition of process solutions for each species and the selection of products to be developed. Some of the characteristics evaluated included the nutritional profile, texture, technological properties (defrosting loss, cooking yield, colour and lipids oxidation), microbiological values so as to evaluate their technological aptitude for processing.
The more relevant parameters analyzed in aquaculture fish samples for this technological evaluation were;  texture, microbiological counts and cooking yield and colour. Frehsness is a crucial parameter for product processing and dependens mainly of a short logistic distribution, the application of good manufacturing practices and packaging conditions. A higher freshness of raw materials was related directly with an increased juiciness in cooked or processed fish, less water drip losses during cooking and a  whiter colour of final processed products.
Whatsmore, the nutritional profile of aquaculture fish flesh (Seabass, Seabream and Meagre) affected directly the nutritional properties (label, claims) of final marketed seafood product. This profile depends on the fatty acid profile of lipids included in feed used by the different farms.
Finally fish handling conditions during whole fish processing activities, packaging and storage process (freezing and chilling) affected directly to the spoilage of aquaculture products and also to the lipid oxidation  prevention so must be monitored.
The work carried out included the design of formulation matrix and specifications for product and processing parameters, selection and provisioning of raw materials (fish), ingredients, packaging materials and other consumables and finally developing production batches at pilot-scale. Finally eight product prototypes were designed and developed at AZTI's pilot plant in Derio (Spain) with specific characteristics according to those identified in previous tasks.
Major changes in demand for food products are being fueled by growing populations, rising incomes, and changing lifestyles. Demand, not supply, drives product offerings with technology tailoring products to meet consumer needs and sophisticated business models delivering them to the customer in a secure manner. Therefore the work reported in this deliverable, is expected to contribute to product and process development that is considered a vital part of smart business strategy to competing with other players in the Food Value Chain.