i) What is your contribution to the MedAID project?
In MedAID, we are working in Workpackage 2 (WP2-Improving Zootechnical Performance).  In this WP we work on the improvement of rearing conditions and feeding strategies that are fundamental to improve the key performance indicators of European seabass (Dicentrarchus labrax) and gilthead seabream (Sparus aurata).  The research addresses current gaps in fish feeding, management practices and fish behavior, welfare and interlinks with genetics (WP3). Research is carried out not only in experimental laboratory trials and pilot tests, but also at farm level through case studies in Spain and Greece.
Within this WP, we participate as the leader of subtask 2.2.1-Effects of temperature in European seabass during larval development (Epigenetics), which has as objective to study the role of epigenetics on sex differentiation, growth, development and quality.  Progress in research has revealed a significant role of epigenetic signals due to temperature changes, water quality variations, as well as developmental cues.  In this task, we will acquire the first insights on the epigenetic impact of early rearing temperature in seabass, in the form of DNA methylation and small RNA during development, as well as their long-term effects on sex differentiation, growth, development and quality.
ii) Why is this research needed?
Rearing under aquaculture conditions is very different from the wild.  Aspects such as water temperature, photoperiod, stocking density, feeding and husbandry may be quite different.  It has been recognized more and more in recent years, that epigenetic modifications (i.e. changes in organisms caused by modification of gene expression rather than alteration of the genetic code itself) take place during early development in cultured fish, and have long-lasting influences in many important physiological aspects, such as sex differentiation (affecting the sex ratio of the population), age of puberty, growth, metabolism, behavior, etc.  So, it is important to not only develop breeding selection programs that will develop special fish lines with the desired productive traits (growth rate, flesh quality and resistance to diseases), but also to understand the influence of early rearing on epigenetic modifications, which can influence greatly the performance of these selected lines.  The European seabass is one of the main aquaculture species in the Mediterranean.  Epigenetic effects, as well as regulative mechanisms of small RNA have not yet been investigated in this species.  The involvement of miRNA expression during development has been reported only in one study looking at early developmental stages. The rapid advancement in sequencing technologies and the increasing molecular resources for the European seabass, including the genome sequence, supports the efficient investigation of epigenetic mechanisms.
iii) What are the main expected outcomes/or possible impacts on the sector?
We expect to gain more knowledge on the influence of one key husbandry parameter in European seabass (i.e. rearing temperature during larval rearing), on epigenetic modification of a number of relevant genes -especially related to sex differentiation and sex control- in order to optimize the rearing conditions used by the industry in the way that the best outcome will be expressed.  We expect to identify and characterize important molecular mechanisms during early development, by generating a global DNA methylation and miRNA atlas. We also aim to identify the long-term effects of different temperatures during the early stages of the European seabass on sex differentiation, growth, development and quality. The outcome may be of importance also to other important aquaculture fish species. In addition, as the relevance of climate change is steadily increasing and global warming is becoming a visible threat to natural populations, this study will contribute to better understanding of how increasing temperature of the water can affect the performance of Mediterranean fish species.
iv) What other projects/activities are you working on?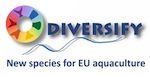 We are currently working in a project on the diversification of aquaculture with new species (FP7, DIVERSIFY).  This 5-year project (2013-2018) with 38 partners from Europe has been studying six new/emerging finfish species with a great potential for the aquaculture industry. As the project is coming to an end, the important industry-relevant information will be presented in specialized workshops focused on fish farmers, which will take place in different countries around Europe, between May and October 2018.  Information and registration can be obtained from the project website.
We are also actively involved in the European Research and Innovation project, EMBRIC (European Marine Biological Research Infrastructure Cluster) comprising case studies to test and improve the quality of workflows and the connectivity of the cluster.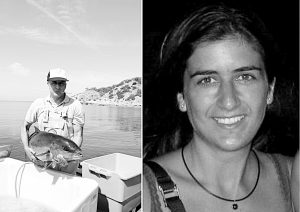 Constantinos C MYLONAS (Director of Research)
Elena SARROPOULOU (Lab Director)
Hellenic Center for Marine Research (HCMR), Crete, Greece.
WP 2 – Improving Zootechnical Performance