The changes that the European consumer is experiencing in terms of new lifestyles, trends and habits in food purchasing and consumption, and others as increasing food environmental awareness, are influencing the development of innovations in the food market regarding new products concepts but also affecting production and market strategies and commercialization channels.
Mediterranean aquaculture industry faces these new challenges in an increasingly globalized market with competitiveness as the key factor and in which Innovations in the supply chain are as important as innovations in production. With and Increasing fish demand Aquaculture will be the clearly most important seafood production technology in next years.
More product innovation and the development of new products for new markets is clearly needed for a more long-term competitive supply-demand equilibrium of Mediterranean aquaculture.  In MedAID EU Horizon 2020 project through a holistic point of view, these needs area approached taking into account the fact that aquaculture seafood products themselves include a set of interrelated services such as availability,  logistics, cost efficiency, harvesting and production technology, food safety, labelling, sustainability and environmental and social impact.
In WP5 "Product development, market and consumer assessment", the multidisciplinary work team is formed by AZTI (Spain), Aarhus University/MAPP (Denmark), HCMR (Greece), IRTA (Spain) and three farming companies from Italy, France and Greece (Compagnie Ittiche Riunite, Poisson du Soleil and Galaxidi Marine Farm S.A.). We will address the development of different product alternatives of specific Mediterranean aquaculture fish species (mainly seabass, gilthead seabream and meagre) for commercial exploitation, analyzing the potential of different market opportunities, and taking into account socio-economic aspects and consumer requirements.
Keeping in mind that consumers purchase options are conditioned by what is offered by distributors and other aquaculture seafood products supply actors and also that "consumers' attitude towards Fishery and Aquaculture products varies according to their socio-demographic category" (EU consumer habits regarding fishery and aquaculture products EUMOFA 2017) in WP5 we will work to:
– Encourage participation of the economic and business stakeholders, representatives of the Mediterranean aquaculture sector (farmers, retailers, caterers, consumer organizations and commercial experts in aquaculture) in  the identification of product and market requirements.
– Identify the best market solution for each type of fish species, transforming them into new value-added products; fresh and convenience products, ready-to eat, new presentations to boost  Mediterranean aquaculture products high quality sensory and nutritional properties (smell, bones).
– Satisfy the needs of different consumer profiles (children, youngest and senior population) and different times of consumption, defining consumer segments with the highest potencial to endorse new high added-value Mediterranean aquaculture products and offering products adapted to all lifestyles.
– Introduce aquaculture products adapted to the needs of the different steps of the supply chain (farmers and processors, direct and indirect distribution channel in currently and under-exploited channels, like HoReCa and food caterers (e.g. school, university and hospital canteens).
The expected impact of the work undertaken will be to enhance the competitiveness of Mediterranean aquaculture by improving its market performance through a supply chain-wide, market-oriented design of diversified or new types of added-value fish products for EU consumers and food supply actors.
More information about the AZTI
More information about Marine research projects and Food research projects AZTI are working on
WP1 is leading by Irene Peral, Begoña Alfaro and Saioa Ramos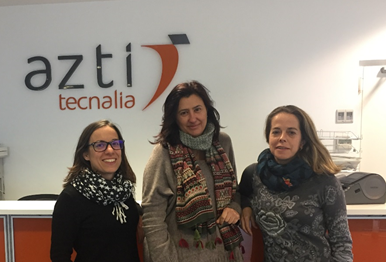 Irene Peral, BSc in Veterinary Science. She is a R&D&I Senior researcher at AZTI's Food Research Unit with more than 18 years of experience in new seafood products development and food processing technologies. She has been working close to agro-food industry and involved in R&D&i activities and technology transfer. She has participated in more than 35 RTD projects for different public-private organizations in the Food Industry and is author of 3 food processing patents related to fish products innovations, 2 of which are being industrially exploited.
Begoña Alfaro (PhD in Food Science and Technology). Currently she is the Manager of Sensory & Consumer Sciences Laboratory at AZTI. She has more than 20 years of experience in food quality and safety. Experience in Sensory and Consumer Research for Product Development. She has participated in 38 research and industrial projects for the agro-food sector at national and international level and has 30 publications related to food quality and safety.  She has participated in several EU-projects and international food and sensory organizations (European Sensory Science Society, E3S, European Association for Food Safety, and the SAFE consortium).
Saioa Ramos (PhD in Environmental Agrobiology). She has more than 10 years of experience performing environmental assessment in agrifood industry and has participated in more than 20 research and industrial projects resulting in more than 20 publications related to food sustainability. Currently she is a researcher at the Sustainable and Efficient Processes Area of AZTI Foundation (Basque Country, Spain), and her work is focused on evaluating environmental and social impact of food products in order to identify improvement actions that minimize overall impact related to the products.