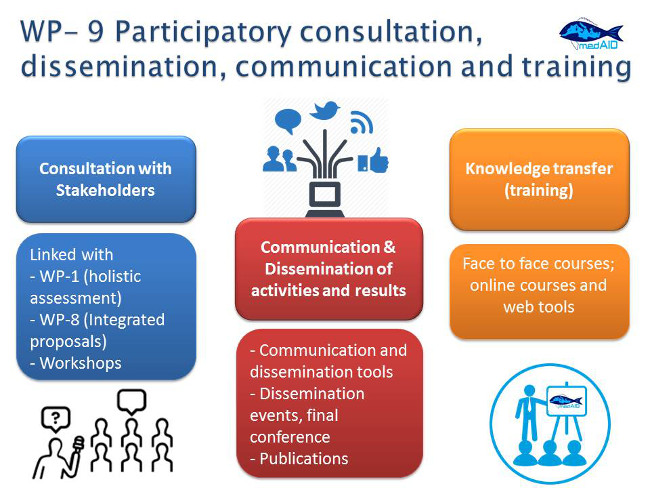 The principal aim of this Work-package is to achieve well-targeted communication, dissemination and maximum impact of project findings and activities, ensuring that results from MedAID reach all relevant stakeholders. MedAID will search to increase awareness on the quality, the safety and the sustainability of Mediterranean aquaculture products by the consumers and general public in order to promote their consumption; to transmit to Policy-makers project results that can be of relevance for the public powers to improve the sector and market governance; and to reach the scientific community and producers with project results of scientific and technical relevance.
Specific objectives are:
i) Coordination with partners and consultation with stakeholders, encouraging them to express their needs, views and recommendations. Ensuring the participation of relevant stakeholders (administration, industry, associations, etc.) in the project is a key objective for MedAID. They will be invited to participate in WP-1 for the sector holistic assessment and in WP-8 for the analysis of results and discussion of proposals.
ii) Communication and dissemination of the activities and results of the project, with appropriate communication and dissemination tools and channels (web, social networks, newsletters, toolbox ..), and through the organization of workshops and other events with all stakeholders. Project results will be also disseminated through the publication of scientific papers, reports and special publications.
iii) Transfer of the knowledge generated by MedAID will be done through the organization of face to face and online training courses, where participants will be learn how to apply and interpret KPI, OWIs, technical and socio-economic guidelines and methodologies.