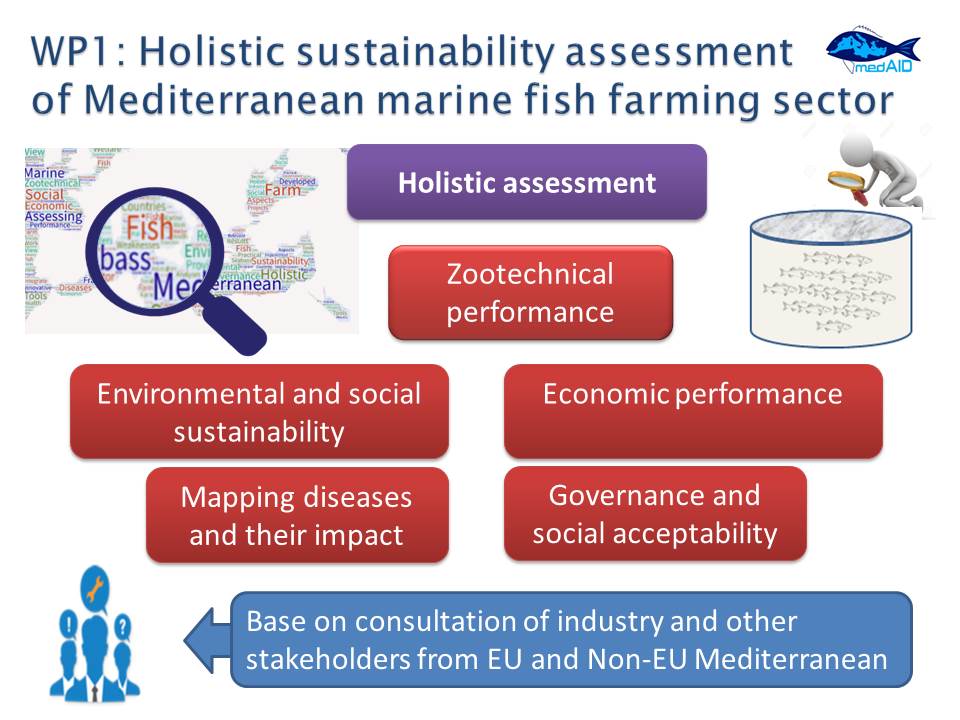 This Work-package will carry out a thorough holistic assessment of the sustainability of the Mediterranean marine fish farming sector, with a particular focus on the farm's zootechnical performance, environmental and social sustainability, health, welfare and diseases, economic aspects and governance. Such novelty will be addressed counting on the participation of the industry and other relevant stakeholders from both EU and Non-EU Mediterranean countries, and will be implemented by applying new and innovative tools recently developed in some EU funded projects.
The results from these analyses will provide a practical framework for obtaining an integrate view of the Mediterranean marine fish farming sector, assessing its development trends, weaknesses and potentials. The results will also provide a comprehensive framework for the work to be implemented in the subsequent WPs.
Objectives
i) Develop, with stakeholder involvement, a Data collection system to gather current and relevant zootechnical, environmental, social, health, economical and governance information regarding Mediterranean aquaculture.
ii) Identify the diversity of aquaculture farming across the Mediterranean.
iii) Define suitable KPIs and tools for assessing the sustainability of Mediterranean aquaculture, with focus on technical, social, economic and health and welfare indicators.
iv) Assess the sustainability of the aquaculture industry and supply chains, including relationships between economic, environmental and social outcomes and trade-offs using indicators identified.