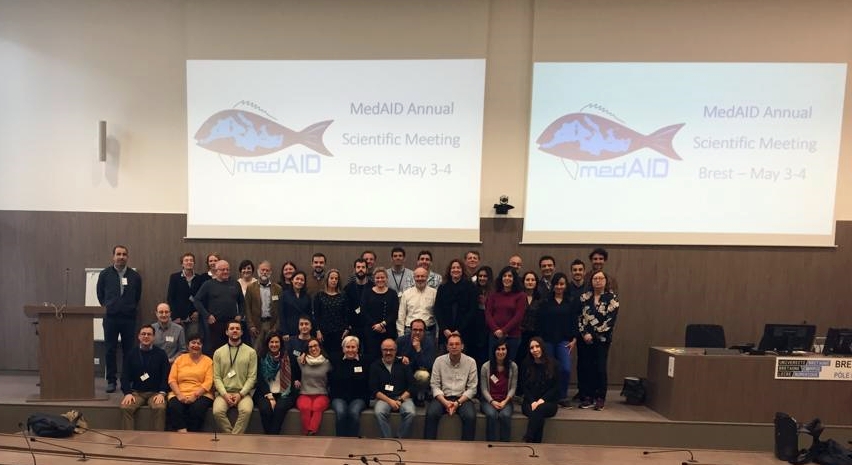 The First MedAID Annual Meeting was held on 3 – 4 May 2018 and hosted by the European Institute for Marine Studies (IUEM) at the Université de Bretagne Occidentale (UBO), Plouzané, Brest.
IUEM is a leading centre for Marine Science innovation though its research, teaching and environmental monitoring missions. Its strong multidisciplinary approach spans from research in Human and Social Sciences to the Sciences of the Universe and Life Sciences.
The local coordination of the meeting was undertaken by José Pérez (Ifremer) and Pascal Raux (UBO). The meeting was attended by 47 people meeting over two days to review the work carried out the achievements of the different Work packages and to define the work plan for year two of the project.
MedAID (Mediterranean Aquaculture Integrated Development) is a four-year project, funded by the European Union in the frame of Horizon 2020, grant agreement number 727315. The goal of MedAID is to increase the overall competitiveness and sustainability of the Mediterranean marine fish-farming sector, throughout the whole value chain. Although the project is still at its initial phase and most research is still ongoing, some preliminary results were presented, such as Task 5.1. Product concept development – market requirements of aquaculture chain stakeholders; and the Sub-Task 2.3.2 Development of functional feeds to improve health and stress tolerance (IRTA).
An important part of the agenda focused on Work package 1: "Holistic sustainability assessment of Mediterranean aquaculture: zootechnical, environmental, economic, social and governance". During this second year, this Work package will finalize its analysis of the sustainability of the aquaculture industry and supply chains, including relationships between economic, environmental and social outcomes. The results will be presented and discussed in a regional Workshop to be held in January 2019.